NCKU and Purdue Have Signed the Agreement on Dual Degree Program and Online Courses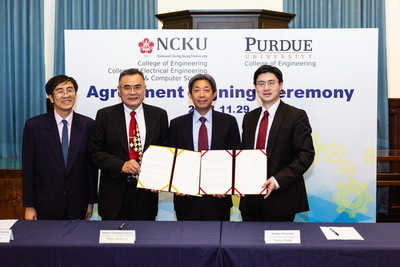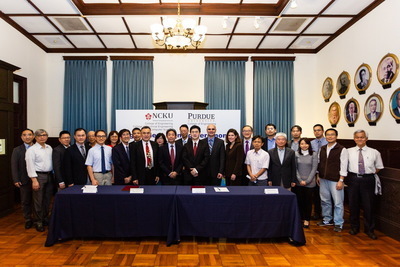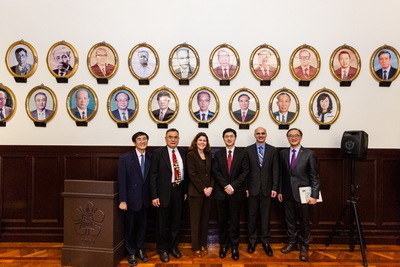 Video Link :https://mytube.ncku.edu.tw/media.php?id=5504
The long-standing partnership between NCKU and US Purdue University since 1950s opens a new chapter today – NCKU and Purdue University have entered the agreement on collaboration of dual degree programs with online course. The signing ceremony on November 29 was attended by Dr. Woei-Shyan Le (李偉賢), Dean of Engineering, Professor of Mechanical Engineering, and Dr. Pei-Yin Chen (陳培殷), Vice Dean of EEC and Professor of Computer Science and Engineering Science, and Dr. Mung Chiang (蔣濛), the John A. Edwardson Dean of Engineering of Purdue University. The ceremony was witnessed by Dr. Cheng-Hung Huang (黃正弘), Executive Vice President, Interim Vice President for International Affairs and Professor of System and Naval Mechatronic Engineering.
"This is a new model of collaboration between NCKU and Purdue University. This agreement will offer the 3+1+1 dual degree program with Purdue online courses." Dr. Cheng-Hung Huang (黃正弘) noted. The 3+1+1 program includes 3 years of on-campus studies in NCKU with online courses, and 2 years in Purdue University, awarded with NCKU Bachelor degree and Purdue Master degree upon completion.
"The key benefit for student to join this programs is that their study period to complete the Purdue Master program would be shorter," noted Dr. Cheng-Hung Huang (黃正弘). "Students would be able to take online courses at NCKU and those credit hours will be recognized by Purdue Master program."
The dual degree programs will be available at NCKU departments of chemical engineering, Electrical Engineering and Computer Science. Additionally, the Dual Doctorate degree will be offered with 2 years in NCKU and another 2 years in Purdue University, awarded with NCKU doctorate degree and Purdue University Doctorate degree upon completion.
According to NCKU international affairs department, three dual degree programs with 200 online courses will be available in the next three years, for which 100 student enrollment and academic exchange projects are to be planned. A scholarship for the Dual Degree Program students will be offered by the Aerospace Industrial Development Corporation of Taiwan (AIDC), with summer intern opportunity and job vacancies in AIDC US. AIDC is one of the world-class Aerospace industrial developers based in Taiwan.
"Today, NCKU and Purdue are re-connected with this new model of collaboration. The NCKU-Purdue partnership has been established since1950 with USAID initiatives for economic development and technology enhancement in Taiwan." Dr. Cheng-Hung Huang (黃正弘) noted, "when NCKU started to develop the higher education system in Taiwan in 1950s. Purdue supported NCKU with the infrastructure, laboratories and faculty capability development." Twenty-nice NCKU professors were Purdue alumni are now reputable researchers in chemical engineering, mechanics, engineering science and bio medical engineering. Dr. Cheng-Hung Huang (黃正弘) expressed his gratitude to University, "Purdue University is a valuable partner and one of the important reasons that NCKU now has become a top-tier university, not just in Taiwan, but also in the world."
"Based on the strong and long-standing relation with mutual trust between NCKU and Purdue University," noted Dr. Mung Chiang (蔣濛), "we are able to create the first program and collaboration of its kind, innovative and impactful, combining with online learning opportunity, making the dual degree more affordable and accessible to students from Taiwan. This is the first for Purdue University, and the first for NCKU as well."
"Purdue takes pride knowing that, from 1950 onwards, we have a special friend, NCKU, who has contributed in an incredible way to the development of Taiwan. This relationship is one for us to continue to grow. Today we open a new chapter of this long book of partnership and friendship.Purdue, the largest among the top ten engineering schools in the United States, will always think of NCKU as a very special friend. I sincerely wish that the partnership and friendship between NCKU and US Purdue University will continue to grow."
Dr. Woei-Shyan Le (李偉賢) noted, "both as top universities in the world, NCKU and Purdue, we will continue to strengthen our collaboration. Also, I would like to express my gratitude to all the attending guests and professors who participate in the program."
In addition to this new program with Purdue University, forty international dual degree programs have been launched by NCKU with University of Illinois at Urbana-Champaign, Manchester University, Leeds University, Sweden royal Institute of Technology, Beijing Tsinhua University, University of Malaya and Hokkaido University. Degree programs of seven Bachelors, seven Bachelor's/Master's, sixteen dual masters and ten dual doctorates are available.
Original Source: https://web.ncku.edu.tw/p/406-1000-187435,r2335.php?Lang=en
Last Updated: Dec 03, 2018